Whitefish Chain - Quarterly Market Update
Below is a snapshot of the Whitefish Chain real estate activity from July 1, 2015 to September 30, 2015. This includes Upper Whitefish, Lower Whitefish, Arrowhead Lake, Bertha Lake, Big Trout Lake, Clamshell Lake, Cross Lake, Daggett Lake, Hen Lake, Island Lake, Little Pine Lake, Lower Hay Lake, Pig Lake and Rush Lake.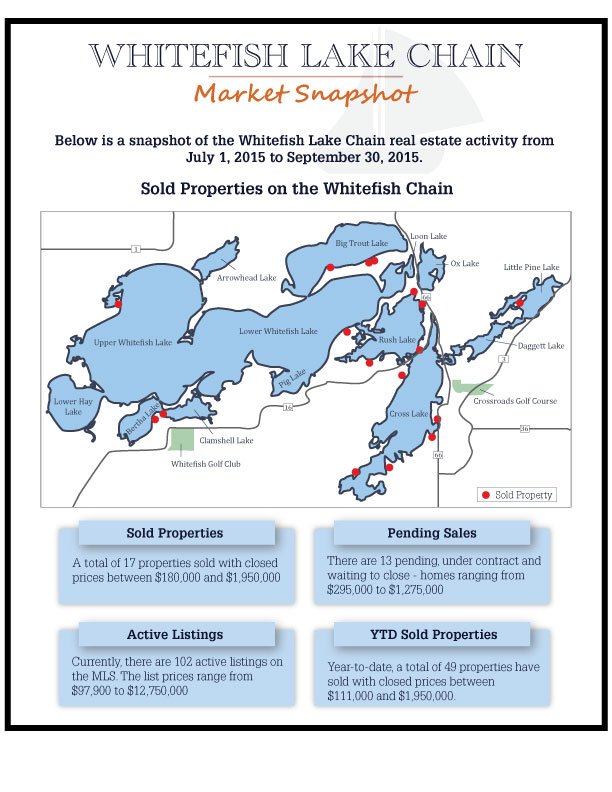 Note, the red dots on the map to the right indicates sold properties on the chain.
Sold Properties
A total of 17 properties sold with closed prices
between $180,000 and $1,950,000.
Active Listings
Currently, there are 102 active listings on the MLS.
The list prices range from $97,900 to $12,750,000.
Pending Sales
There are 13 pending, under contract and waiting to close - homes ranging from $295,000 to $1,275,000.
YTD Sold Properties
Year-to-date, a total of 49 properties sold with closed prices between $111,000 and $1,950,000.
If you have questions about the Gull Chain market or lake homes for sale on Whitefish Chain, please contact us at sales@upnorthproperties.com or 218-820-7355.