6 Tips on How to Save Water While Watering Your Crow Wing County Home's Landscape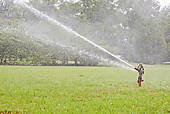 Spring is here in full force in Crow Wing County and many residents are contemplating when it will be time to start watering their lawn. Watering the landscape of your Crow Wing County home can easily cause your water bill to increase. Here are 6 tips to help you keep that water bill low while being more water-efficient.
1. Plants
When planting new plants in the yard of your Crow Wing County home use those that are native to the area. These types of plants are more established, require less watering, and are more resistant to diseases and pests that tend to be in the area.
2. Group
Try to group your plants together that need the less watering, and then plant them near each other. By doing this you can avoid both over and under watering. Place those plants that need the most water together, and put them near your home if you can so that they can take advantage of the rainfall as it comes off the roof.
3. Mulch
Add mulch around your plants as this helps reduce the amount of water you will need as it aids in keeping the soil cool, and it also helps reduce evaporation which helps roots stay healthy.
4. Efficiency
When watering your plants you want to be as water-efficient as possible, and you can do this by watering at the appropriate times. Water in the early morning when the air temperature tends to be the coolest. Do not water your plants in the middle of the day or at sunset as these tend to be the worst times.
5. Slopes
If your yard has a steep slope then watering your plants may be a wasted effort. If the water is running off consider installing plants with deeper roots. If affordable consider having a professional landscaper reslope your yard.
6. Lawn Size
The amount of water you will use on your law ultimately depends on the overall size of your yard. Reducing your lawn size if you have a large yard will reduce water usage needed. For instance, if you have a playground there may not be a need to have grass or plants underneath it.
I would love to help you buy or sell a home in Crow Wing County this spring, contact me, Bill Grunewald. My team and I enjoy helping folks like you find just the right spot to live your northern Minnesota Lake Country dream.
Bill Grunewald/ Edina Realty.
Licensed in Minnesota/ Lic # 20204156