How to Qualify To Refinance Your Crow Wing County Home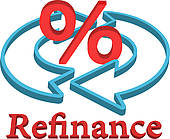 The average 30-year fixed-rate mortgage fell last week to 3.78 percent, down from 3.86 percent the week prior. With the continued decrease of mortgage interest rates now may be the time to refinance your Crow Wing County home. Here are a few tips on determining if you qualify to refinance your mortgage loan.
First, start by determining how much equity you have in your home at this time. It is ideal to be able to refinance without paying private mortgage insurance. In order to refinance and not pay private mortgage insurance your LTV needs to be 78% or less. To find your loan-to-value (LTV) ratio you would need to determine what your home is worth and subtract that from what you owe.
Second, look at your debt-to-income (DTI) ratio. LendingTree.com advises that after you refinance your mortgage your new payments, plus other debt should not add up to more than 43% of your current gross income. During the refinance process lenders will be looking at your credit scores. The higher your credit scores the better the refinance rate you will be able to secure. Lender minimums credit scores are typically between 620 to 660.
If you have determined refinancing your Crow Wing county home is not in your favor as you will be moving in the near future then consider contacting us for your all your home selling and buying needs.
Last, evaluate the costs incurred in refinancing and make sure it is worth it. Are you considering selling your Crow Wing County home soon? If so refinancing may not be in your best interest. The thousands of dollars you w incur in closing costs, loan origination fees, and other fees may not be worth it if you plan to move in the next few years.
I would love to help you buy or sell a home in Crow Wing County this spring, contact me, Bill Grunewald. My team and I enjoy helping folks like you find just the right spot to live your northern Minnesota Lake Country dream.
Bill Grunewald/ Edina Realty.
Licensed in Minnesota/ Lic # 20204156