Ice Safety Tips for Crow Wing County Residents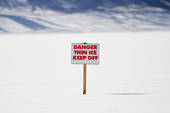 Over the last few weeks there have been numerous reports of vehicles, ATV's, and snowmobiles going through the ice. This is a good time to remind everyone of a few ice safety tips. When it comes to ice there is never a sure answer. The strength of the ice can never really be told by just age, thickness, temperature, or whether or not the ice is covered with snow. The strength of ice also depends on the size of the body of water, the depth of water underneath the ice, water chemistry and currents, the distribution of the load on the ice, and local climatic conditions according to the Minnesota Department of Natural Resources.
Ice can never be considered 100% safe. If you will be walking on the ice you should check the ice thickness at least every 150 feet. You can check the ice thickness by using an Ice Chisel, Ice Auger, or Cordless Drill. For more details on how to correctly measure ice thickness visit here.
If you par a vehicle onto the ice it needs to be at least 50 feet away from other vehicles. Also, move the car every two hours to prevent it sinking. If you drill a hole next to the car and it begins to have water overflowing the top it indicates that ice may be sinking and it's time to move your vehicle.
Stay safe while having fun on the ice this winter. If you are looking to buy or sell a home in 2015, contact me, Bill Grunewald. My team and I enjoy helping folks like you find just the right spot to live your northern Minnesota Lake Country dream.
Bill Grunewald/ Edina Realty.
Licensed in Minnesota/ Lic # 20204156