Homeownership in Crow Wing County is Key to Building Your Wealth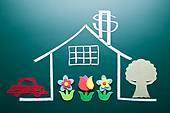 If are contemplating if it is more worthwhile to rent versus buy, you could not be more wrong. A recent editorial in the New York Times, "Homeownership and Wealth Creation," explains how homeownership is one of the best ways you can build your wealth. The housing market in Crow Wing County and across the nation is well into its recovery with home sale prices continuing to increase, and consumer confidence is rising.
The article points out that:" Homeownership long has been central to Americans' ability to amass wealth; even with the substantial decline in wealth after the housing bust, the net worth of homeowners over time has significantly outpaced that of renters, who tend as a group to accumulate little if any wealth."
A recent study conducted at the Joint Center for Housing Studies analyzed the reasons for these differing outcomes. They found that to purchase a home the homeowner must first save for a down payment that forces them to save, and continue to save each month by paying a mortgage principal payment each month. When it comes to renting the article had this to say:
"Even in instances where renters have excess cash, saving a substantial amount is difficult without a near-term goal, like a down payment. It is also difficult to systematically invest each month in stocks, bonds or other assets without being compelled to do so."
There is of course a certain amount of risk that comes with homeownership. However, when it comes down to building your wealth there is no equal substitute to homeownership.
If you are currently renting and looking to build your wealth with homeownership in the New Year then contact us. My team and I enjoy helping folks like you find just the right spot to live your northern Minnesota Lake Country dream.
Bill Grunewald/ Edina Realty.
Licensed in Minnesota/ Lic # 20204156