Fireplace Safety Tips For Your Crow Wing County Home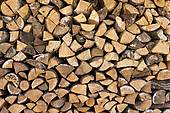 The colder weather is here in full force, and many residents in Crow Wing County turn to their fireplace or wood stove to help heat their home. When using alternative methods to heat your home, safety should be your top concern.
Here are a few tips for safety and efficiency of your wood fireplace:
Burn only Firewood- It may be tempting to throw in that old lumber, painted wood, or construction scraps you have laying around the home, but don't. You should only burn firewood or log starters in your fireplace. You also only want to burn dry, cured wood that has ideally been split stacked and dried for only eight to 12 months. Hardwood such as white oak, hickory, maple, and white ash burn for the longest period of time and are ideal to use over less dense wood.
Damper- When not using your fireplace keep the damper closed. It will prevent the warm air you are paying so much for from rushing up the chimney and blowing outdoors. A top-mounted damper that can also function as a rain cap will provide you with a tighter closure than a traditional fireplace damper.
Chimney Cleaning- It is recommended that if you burn more than three cords of a wood a year you should have your chimney cleaned twice a year. A cord is considered a stack of wood that is 4 feet wide by 8 feet long. Between cleanings you should be monitoring your chimney for signs of creosote and soot buildup. Creosote is a dark or black colored substance that can build up if the wood you are burning is not burning completely. Soot is softer than creosote, but both are flammable and could be a fire hazard.
Carbon Monoxide- Prior to burning your fireplace it is necessary that your home have carbon monoxide detectors installed near your fireplace and in all bedroom areas.
If you are looking to buy or sell a home in Crow Wing County this winter, contact me, Bill Grunewald. My team and I enjoy helping folks like you find just the right spot to live your northern Minnesota Lake Country dream.
Bill Grunewald/ Edina Realty.
Licensed in Minnesota/ Lic # 20204156