How to buy a home in Crow Wing County with little to no money down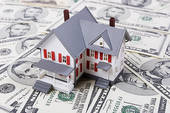 If you are looking to buy a new home in Crow Wing County but are struggling with how to come up with a hefty down payment there are options out there that may help. Typically, it has been the more money you have to put down on your home mortgage the better your chances of obtaining a mortgage loan. Traditionally 20 percent of the home's purchase price is what we think of a typical down payment, but that is not always necessary.
FHA Loan- If you are not able to come up with a large down payment and you are looking to purchase your first home then a low down payment home mortgage backed by the Federal Housing Administration (FHA) may be the best for you.
This type of mortgage loan is designed to help first-time home buyers by offering low closing costs, low down payments, and easier credit qualifications. FHA loans typically only require a 3.5 percent down payment.
VA Loan- If you have a military background and you are in the market for a new home in Crow Wing County then you may qualify for a loan program sponsored by the U.S. Department of Veterans Affairs (VA). The VA loan program requires homebuyers to be active service members or veterans. These loans do not require mortgage insurance, have lower interest rates than FHA loans, and require no down payment.
USDA Loan- The U.S. Department of Agriculture (USDA) provides a home loan program that aims to improve the quality of life for those living in rural areas. It provides a zero down payment option. To qualify the property needs to be located in an eligible rural area. Another requirement of the program is that the homebuyer's income needs to be within the eligibility guidelines.
Our team would be delighted to help you find the perfect home in Crow Wing County. My team and I enjoy helping folks like you find just the right spot to live your northern Minnesota Lake Country dream.
Bill Grunewald/ Edina Realty.
Licensed in Minnesota/ Lic # 20204156