30- Year Fixed Mortgage Increased for the first Time in a Month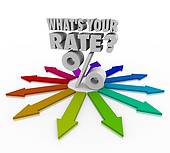 Not only are home prices on the rise but it appears so too are mortgage rates. According to the recent report by Freddie Mac that was released last Thursday the average rate or a 30-year fixed mortgage increased to 4.14 percent, up from 4.12 percent. The average 15-year fixed mortgage rate increased to 3.27 percent, a slight increase from its previous 3.23 percent. This is the first time rates have increased in four weeks. In comparison, the 30-year fixed mortgage hit its record low in November 2012 at 3.31 percent.
Mortgage rates may have increased, but they still remain close to record lows. 30-year mortgage rates declined from a two-year high that we saw in August of last year at 4.56 percent. As a result many current homeowners refinanced to lower their monthly costs. For the week ending August 1, the number of homeowners seeking to refinance jumped to 54.5 percent. This is the highest number we have seen since March, according to the Mortgage Bankers Association. More and more homeowners are realizing that they need to take advantage of these low rates before they continue to rise and as a result are choosing to refinance.
If you are looking to buy or sell a home in Crow Wing County this summer, contact me, Bill Grunewald. My team and I enjoy helping folks like you find just the right spot to live your northern Minnesota Lake Country dream.
Bill Grunewald/ Edina Realty.
Licensed in Minnesota/ Lic # 20204156