4 Reasons Why Now is the Time to Buy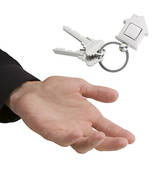 If you are considering buying a home and are on the fence here are four reasons why now is the time to for you to buy.
Mortgage Interest Rates Will Rise- Mortgage interest rates for a 30-year mortgage are hovering around 4.2%. Freddie Mac is predicting that we will continue to see this number increase. They are predicting that rates will rise to 5.2 % by this time in 2015.
Prices Are Rising- Over 100 economist, investment strategists, and housing market analysts were polled for the most recent Home Price Expectation Survey. The most recent report predicts that home values over the next five years will rise on the optimistic side by 30.8% and on the pessimistic side by 9.4%.
Paying a Mortgage- No matter if you are renting or own a home you are more than likely paying a mortgage. It may be a mortgage you have taken out or you are paying your landlords mortgage. It usually makes more financial sense to get the tax benefits from paying your own mortgage.
It's Time- When it comes to determining the cost of a home you must consider two things. First the price of the home. Second the current mortgage rate. Why are you waiting? Consider where things are projected to head and you may see now is the time to buy. Buying a home sooner than later could result in a large savings for you.
If you are looking to buy or sell a home in Crow Wing County this summer, contact me, Bill Grunewald. My team and I enjoy helping folks like you find just the right spot to live your northern Minnesota Lake Country dream.
Bill Grunewald/ Edina Realty.
Licensed in Minnesota/ Lic # 20204156