Crow Wing County Fair Started today and will run through August 2nd.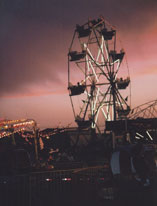 The Crow Wing County fair located at 13th Street Southeast in Brainerd opened today and will run until August 2nd. The fair is expected to draw a crowd of over 80,000 people. The fair remains strong in tradition yet continues to offer something new each year.
Popular event for the rest of the week include: motocross on Wednesday; baja rally races on Thursday and Friday; and the bull riding event Aug. 2. The pit gates open at 4 p.m. each day of the fair with the events beginning at 7 p.m.
The carnival will once again be put on by Todd Armstrong, and visitors will see new rides in the Midway, which opens at noon each day.
Fair favorites such as the Cock-A-Doodle Zoo and the Mutton Bustin' event return this year. The zoo event allows fair goers the opportunity to experience unique animals, and learn about planetary sustainability and conservation. Children experience the joy of riding a sheep with the Mutton Bustin' event which is scheduled for Thursday during the bull riding intermission
For a full list of fair events visit: http://brainerd.com/fair/index.html.
If you are looking to buy or sell a home in Crow Wing County this summer, contact me, Bill Grunewald. My team and I enjoy helping folks like you find just the right spot to live your northern Minnesota Lake Country dream.
See you at the fair.
Bill Grunewald/ Edina Realty.
Licensed in Minnesota/ Lic # 20204156