Fifth Straight Week Fixed Mortgage Rates Drop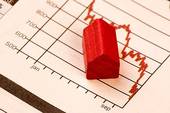 For the fifth straight week fixed mortgage rates have dropped according to the latest report released by Freddie Mac. 30-year fixed-rate mortgages dropped to their lowest levels since late October 2013, to 4.12 percent, down from 4.14 the week prior. This is quite a drop from the 4.53 percent they started at in the beginning of this year. This is 41 basis points drop.
The 15-year fixed-rate mortgage average also fell and ended at 3.21 percent with an average of 0.5 point. This is the lowest point seen in seven months. The week prior it was 3.25 percent, and at this time last year it was 2.98 percent. Since the first of the year the 15-year fixed-rate mortgage has dropped 34 basis points.
The five-year ARM average remained unchanged at 2.96 percent, with an average of 0.3 point. This is only the second time this year we have seen the rate below 3 percent. This time a year ago it was at 2.66 percent.
"Fixed mortgage rates eased a bit for the fifth consecutive week as reports that existing home sales are up 1.3 percent but not as much as expected," Frank E. Nothaft, Freddie Mac vice president and chief economist, said in a statement. "However, new home sales rose 6.4 percent in April to a seasonally adjusted annual rate of 433,000, which followed an upward revision of 11,000 units for the prior two months."
If you are looking to buy or sell a home in Crow Wing County, contact me, Bill Grunewald. My team and I enjoy helping folks like you find just the right spot to live your northern Minnesota Lake Country dream.
Bill Grunewald/ Edina Realty.
Licensed in Minnesota/ Lic # 20204156