Rodeo to be held at Crow Wing County Fairgrounds in Brainerd this weekend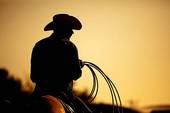 This coming weekend May 10th and 11th the Minnesota High School Rodeo Association will host a rodeo at the Crow Wing County Fairgrounds in Brainerd. The event kicks off at 7 p.m. May 10th with a cutting competition. During this event a horse and rider separate a single cow from a herd, and then proceed to show off the horse's training while preventing the cow from reentering the herd.There is no charge for this event and it is expected to be completed by 9 p.m. The rodeo restarts at promptly at 11 a.m. the following morning
The main performance will start Saturday night at 7 p.m. Admission is $8 for adults, $4 ages 5-17, and under age 5 are free.
The rodeo has 140 competitors from across all the state between the ages of sixth grade through 12th grade. You will not be disappointed with this rodeo as it will include all the traditional events with many tailored towards its younger competitors.
The Minnesota High School Rodeo Association has divided the state into five regions. Brainerd is represented by Region 1 which includes all of Northern Minnesota from Brainerd north. The association hosts rodeos starting each year in August and end the following June. Each region hosts a rodeo where competitors attend and accumulate points throughout the season which help position them for the state competition. Once at the state finals the top four competitors in each event then become eligible for nationals.
If you are looking to buy or sell a home in Crow Wing County this spring, contact me, Bill Grunewald. My team and I enjoy helping folks like you find just the right spot to live your northern Minnesota Lake Country dream.
Bill Grunewald/ Edina Realty.
Licensed in Minnesota/ Lic # 20204156