Riverwalk May Soon be in Brainerd's Future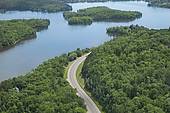 The Mississippi River winds directly thru the heart of Brainerd, and many city and state leaders think that it should be utilized. The Brainerd City Council stated last year that building a riverwalk in the city was one of its strategic goals. This is not the first time that the city has attempted to plan a riverwalk for the city. The concept was brought up many years ago but action was never taken. Mark Ostgarden, City Planner, has been pushing this project forward since, and is determined to see this concept thru this time.
"It's all about creating a brand, an identity for ourselves," Ostgarden said. "When people think of Brainerd, they think of lakes. That's not what Brainerd is. Sure, the surrounding communities are abundant with lakes, but Brainerd itself is right on the river."
The concept would include a 2.5 mile long project, with room for expansion that would include a walkway that would begin at Washington Street and continue on to Little Buffalo Creek. The riverwalk would also have room for a plaza which would serve as the center for festivals and group gatherings.
The Center for Rural Design (CRD) at the University of Minnesota has recently joined forces with the city to draft a plan for the future project. The CRD will start by creating a steering committee, which will be made up of local community leaders and residents. The new committee will then make recommendations to the council for a final approval on the development of the riverwalk. The CRD will not serve as a master plan, but as a way to get everyone on the same page. "The city has ignored the river and the potential for creating higher quality of life," said Dewey Thorbeck, director of CRD. "Brainerd is keystone city in the larger lakes region. Rethinking how it connects to the river can help clarify its role and opportunity for the greater economical and social impact," he said.
If you are looking to buy or sell a home in Crow Wing County this spring,contact me, Bill Grunewald. My team and I enjoy helping folks like you find just the right spot to live your northern Minnesota Lake Country dream.
Bill Grunewald/ Edina Realty.
Licensed in Minnesota/ Lic # 20204156