2013 Brought About Drastic Drop in Foreclosures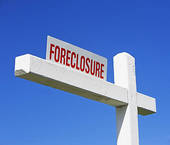 Across the nation the number of foreclosure filing, bank repossessions, auctions, and notices of defaults dropped drastically in 2013. We saw a drop of 26% to 1.36 million properties according the recent report released by Realty Trac. 2007 was the last time we saw foreclosure filings this low.
Nationwide in 2013 one in every 96 homes were reported to be under foreclosure filings. Last year the national foreclosure rate decreased to 1.04 %, this is close to the historic norm that falls just below 1%. To compare in 2010 when we saw the housing crisis at its peak the national foreclosure rate was at 2.23%.
The real estate market is improving with each passing day, but there are still homeowners out there that are facing foreclosure. As 2013 ended there were 9.3 million properties with foreclosure looming. This is equivalent to 19% of all homeowners in the nation still being underwater on their mortgage. For a homeowner to be considered underwater on their mortgage it means that the home owner owes at least 25% more on their home loan than what it is worth.
"Millions of homeowners are still living in the shadow of the massive foreclosure crisis" said Daren Blomquist, vice president at RealtyTrac. "But the shadow cast by the foreclosure crisis is shrinking as fewer distressed properties enter foreclosure and properties already in foreclosure are poised to exit in greater numbers in 2014."
In 2013 it is estimated that nationwide 463,000 homeowners lost their home as a result of bank repossession. This is down 31% over 2012 numbers. In 2010 there were over one million bank repossessions and more than 2.9 million foreclosure filings. The good news is we are trending in the right direction.
2014 is going to be a great year for the housing market in Crow Wing County. Home prices are rebounding and buyers are looking to buy. If you are looking to buy or sell a home in Crow Wing, contact me, Bill Grunewald. My team and I enjoy helping folks like you find just the right spot to live your northern Minnesota Lake Country dream.
Bill Grunewald/ Edina Realty.
Licensed in Minnesota/ Lic # 20204156