Protect Your Crow Wing County Home from Ice Dams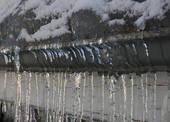 The recent round of snow has left the roof of homes in Crow Wing County covered in snow. Many homeowners can expect their roof to remain covered for most of the winter. With the fresh round of new snow it leaves many homeowners at risk of developing ice dams. Ice dams occur when ice forms at the edge of a roof, which in turn prevents melting snow from draining off the roof. Snow begins to melt when warm air from the indoors escapes through the attic. The melting water can leak into your Crow Wing County home and cause damage to your walls, ceilings, and insulation.
Ideally in the summer you want to start planning on preventing ice dams by increasing the amount of insulation in your ceiling to cut down on heat loss. If you were unable to insulate this summer and want to prevent the formation of an ice damn use a snow rake to remove any excess snow from your roof. Take great care when doing this as to prevent damage to the roof. Many home owners are injured each year trying to fix an ice damn, and it may be best to leave it to the professionals.
If you are considering hiring a company to deal with ice damns be sure to check out the company's record with the Better Business Bureau by visiting, http://www.bbb.org. Make sure that the company doing work on your home is properly insured, and it is best to get estimates from multiple companies.
If you are looking to buy or sell a home in Crow Wing County this winter, contact me, Bill Grunewald. My team and I enjoy helping folks like you find just the right spot to live your northern Minnesota Lake Country dream.
Bill Grunewald/ Edina Realty.
Licensed in Minnesota/ Lic # 20204156