Keeping Your Gutters Clean This Fall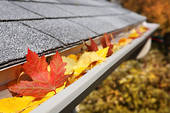 With the leaves beginning to fall the gutters on your Crow Wing County home can quickly become full. Failing to clean out the gutters of your home can lead to a large hefty bill.
You may be thinking this is one of those chores you can just skip, especially as we are heading into the busy holiday months. However, if you avoid cleaning out your gutters you could be looking at thousands of dollars' worth of damage. With leaves and debris building up it can easily lead to blockage, and instead of water easily going down your downspouts it will back up onto your roof, your eaves, and potentially other parts of your house causing it to rot. As a result you could end up with damage to the interior of your homes walls and ceilings.
Not only do full gutters cause blockage it can also become heavy which can cause the gutters and the brackets to bend; which will lead to damage on the exterior of your home. If you find your basement flooded and your foundation cracking it may also be a result of blocked gutters.
To clean your gutters you first need to gather the right tools. Gather gloves, a ladder, trowel, trash bags, and a hose. Grab out all large debris, and then use your trowel to scrape out all remaining debris. Finish cleaning out all the debris by using your hose to let water flow throughout the gutter.
Maintaining the upkeep of your home will help your Crow Wing County home maintain its value. If you are looking to buy or sell a home in Crow Wing County, contact me, Bill Grunewald. My team and I enjoy helping folks like you find just the right spot to live your northern Minnesota Lake Country dream.
Bill Grunewald/ Edina Realty.
Licensed in Minnesota/ Lic # 20204156