Budget Friendly Bathroom Remodel Tips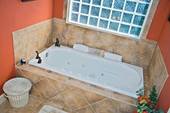 A newly renovated bathroom can add value to your Crown Wing County home. If you cannot afford to fully renovate your bathroom there are plenty of ways to change the complete look at a very affordable price and equity to your home.
#1-Resurface
Resurfacing your bathtub is an affordable way to give your bathroom a whole new look. To demolish, remove and install a new bathtub costs on average $1,000. If you do the work yourself you can easily refinish your bathtub for $150. If you chose to hire a professional it can cost you anywhere from $300 to $400.
#2-New Floors
Replacing your bathroom floor can take a dull outdated bathroom and make it look nearly new. Adding porcelain and travertine tiles can make a big impact on your bathroom overall and run on average $1.75 at your local hardware store.
#3-Light Fixtures
Interior designers will tell you that the light fixtures make the room. You can find great looking light fixtures for under $50 at your local hardware store.
#4-Cabinets
If you cannot afford to buy all new bathroom cabinets try refacing them as it is a much cheaper option. Refacing your cabinets will save your nearly 50%
#5-Fixtures
If your bathroom fixtures are more than 10 years old they are more than likely outdated. Shopping for new bathroom fixtures is like shopping for jewelry. Prices for fixtures can vary depending on how much you want to spend.
If you are looking to buy or sell a home in Crow Wing County, contact me, Bill Grunewald. My team and I enjoy helping folks like you find just the right spot to live your northern Minnesota Lake Country dream.
Bill Grunewald/ Edina Realty.
Licensed in Minnesota/ Lic # 20204156