Mortgage Interest Rates Start Trending Down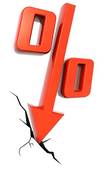 After trending upwards for the past few weeks, mortgage interest rates have started to trend down as a result of the Federal Reserve announcing recently that it won't pare back its stimulus program. Last week the 30-year fixed-rate mortgage dropped from 4.5% to 4.32% according to a weekly survey from Freddie Mac.
"Mortgage rates fell following the Federal Reserve announcement that it will maintain its bond-buying stimulus," said Frank Nothaft, Freddie's chief economist. "These low rates should help offset the house price gains seen in the last number of months and keep housing affordable."
Rates fell as low as 3.35% in May of this year, when at that time the Fed hinted that it may begin to taper its bond purchase which resulted in mortgage interest rates rising by more than a percent by June. The drop in interest rates brings good news to those who are looking to buy a home or refinance and thought that they had missed the boat.
"After hearing about rising mortgage rates for months, consumers should welcome the news of a decline," said Keith Gumbinger, of HSH.com, a mortgage information firm. "The Federal Reserve's decision to keep its quantitative easing programs running for at least a while longer allowed mortgage and bond markets a chance to relax, at least for a little while."
If you are considering purchasing a home now is the time to do so. Many economists are predicting that Fed may once again begin to taper later in the year which will result once again in mortgage interest rates rising.
If you are looking to buy or sell a home in Crow Wing County, contact me, Bill Grunewald. My team and I enjoy helping folks like you find just the right spot to live your northern Minnesota Lake Country dream.
Bill Grunewald/ Edina Realty.
Licensed in Minnesota/ Lic # 20204156